RAMP contribute to National Equine Forum (#NEF23)
Posted: 05.03.2023
Image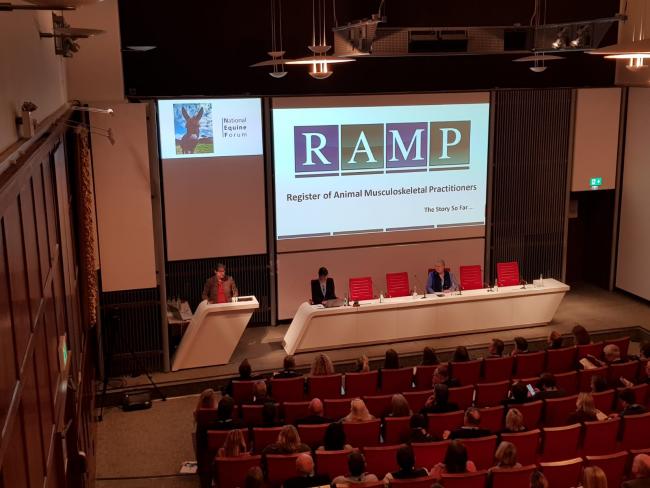 Body
RAMP attended the 31st National Equine Forum (#NEF23) annual meeting on Thursday 2nd March. It took place at the Institution of Mechanical Engineers, Birdcage Walk, Westminster, London and was attended by around 500 delegates including the NEF President, HRH The Princess Royal.
This year's focus was on The Equine Industry in a Changing World, Social Licence, Opportunities and Challenges for the future of the Equine sector, Equine health and behaviours and influencers in the Equine world.
RAMP President Jo Paul was one of the ten speakers and gave a very comprehensive report of the current Regulatory situation and how RAMP is developing solutions. She then joined Hugh Thomas, Chairman of the Equine Fitters Council and Sheila Voas, Chief Veterinary Officer for the Scottish Government for a short panel discussion. This update was received with interest from the many leaders of sectors of the industry. This was followed at the breaks with opportunity for both Jo and Vav Simon (past president) to network, making useful connections to further the work RAMP is undertaking. An excellent day promoting RAMP was topped off when Jo and Vav were very honoured to be presented to Princess Anne, The Princess Royal.
Other speakers on the day included The Rt Hon Lord Benyon was appointed Minister of State at the Department for Environment, Food and Rural Affairs in October 2022. He was previously Parliamentary Under Secretary of State at the Department for Environment, Food and Rural Affairs from May 2021 to October 2022 and gave us an update from the UK Government on equine matters.
David Mountford BEVA CEO who spoke as Chair of the British Horse Council which was formed in 2018 to represent the collective voice of the UK equine welfare community and acts to engage with ministers and government officials to find collaborative solutions to challenging matters including equine identification, abandoned horses and ponies, disease surveillance and other areas affecting the UK's horse industry.
Roly Owers CEO of World Horse Welfare talked about Social Licence to use horses in Sport. He revealed the frightening static of 1 in 5 people asked on one survey said they do not agree with horses being used in sport at all. He went on to say we must present the positive aspects and back that up with good practice, including being very careful about the everyday language we use in the equestrian world E.G. breaking in, kicking on are all terms used regularly but can convey a very negative approach to the non-horsey public.
Dr Gemma Pearson gave an interesting account of the use of learning theory in tackling unwanted behaviours in horses. Then a joint case study presentation of Gavin the Welsh Cob, with owner Hannah Bryant.
The day ended with a memorial lecture from Charlie Thornycroft who gave a very moving account of her recent work with horses being rescued from Ukraine to Poland during the current conflict. Charlie was the deserving winner of the Sir Colin Spedding Award and received a standing ovation. Her story put the worries we have in this country into perspective and was a memorable way to close the day.
In all an inspiring day to catch up on the enormous amount of work going on in the equine industry to make real differences to equine welfare and RAMP were honoured to be invited to contribute.
You can gain more information on the NEF social media.