Vav Simon at Equine Fitter Conference
Posted: 07.02.2022
Image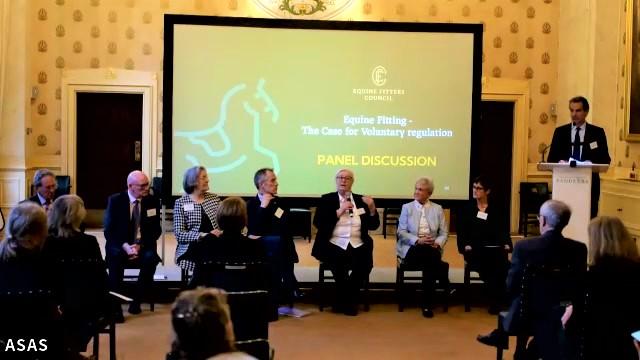 Body
Equine Fitters Move Towards Voluntary Regulation
RAMP was invited to contribute to the discussion at the recent Equine Fitters Conference.
Dr Vav Simon DC AMC FRCC, co-founder and Past President of RAMP travelled to Saddlers Hall, London on 27/1/22 to share experiences about setting up a new independent regulatory body for professionals.
Like the MSK industry, there is no statutory regulation requiring that a person fitting a saddle, bit, bridle or harness meets suitable standards of training, conduct or professional development. Neither is there a voluntary governing body like RAMP to set minimum standards for training and education.
In 2020, the working groups of The Saddlers Company and The Worshipful Company of Loriners began talks to form a regulatory body to oversee all equine fitting.
Presentations Given At Conference
Philip Napier, Clerk to the Saddlers Company introduced the day which was attended by over 60 people both in person and by live streaming zoom. A full programme started off by addressing the vision for this initiative with a presentation from Sue Dowthwaite, Past Master of the Loriners Company.
The welfare of, and relationship with the horse was discussed with Roly Owers, Chief Executive from World Horse Welfare. He illustrated the need for change and the social licence around our care of the animals we have such a deep and varied relationship with.
Vav Simon discussed why Voluntary Regulation is the answer and how RAMP built the register and the organisation piece by piece.
Catherine Morris gave an overview of the development of the Equine Fitters Council before the Saddlers Company Past Master, Hugh Thomas, described the next steps in the plan.
Then a Question And Answer Panel responded to questions from senior vets, saddlers, loriners and members from equine assisted therapies. Jane Nixon, Director of the British Equine Federation and Consultant Veterinary surgeon to the Society of Master Saddlers joined the panel
This was a constructive and optimistic gathering that reminded Vav of the early days of RAMP's evolution. It was very encouraging to learn that RAMP was highly respected and forefront in the minds of senior representatives from the equine industry.
The work done by RAMP Council addressed many of the same areas of concern raised by the Musculoskeletal industry. By setting standards of training and practice, this takes our registrants into the arena of regulated professionals that vets and animal owners want to work with and as an industry regulator RAMP has also clarified the landscape for care for animals, simplifying areas of responsibility with vets and owners.
This emerging Equine Fitters Regulation Council is strongly supported by long-experienced senior figures in the industry. From our experience, we are sure they are tackling the task well and will take the professions forward. RAMP has offered to continue to support EFC in their efforts.